0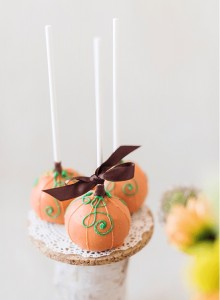 The thermometer might say it is 90 degrees outside but it's September and that means it is fall! Or at least it means I'm wishing it felt like fall.
And fall means pumpkins! I'm talking pumpkin spice lattes, pumpkin pies, pumpkin decorations.
Which brings us to today's fun wedding favor – little pumpkin shaped brownie pops.
Sure cake pops are all the rage, but if you're going to eat something on a stick it might as well be a chocolate brownie, right?
And these adorable brownie pops are decorated to look just like pumpkins, making them perfect for your fall wedding. Each brownie pop is individually wrapped in cellophane so you can place one at each place setting.
You'll find these pumpkin pops here.
Read More:
cake pops
,
edible wedding favors
,
fall wedding favors
,
fun wedding favors
,
pumpkins