0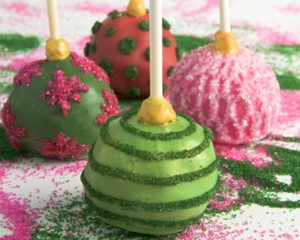 It's beginning to look a lot like Christmas, and with the holiday just a mere five days away I wanted to find a very festive wedding favor.
I think these holiday ornament cake pops fit the bill.
These favors would add a perfect holiday POP to your winter or holiday-themed wedding, don't you think?
Each pop is made with a hand-decorated brownie ball and you can choose from several designs including green swirl, snowflake, dots, or crosshatch. This means you can customize the favors for your winter theme.
We love any kind of cake pops around here but these might be the best we've seen in a while. They're just so fun and festive and your guests are going to love them.
You can find these super cute holiday cake pops here.
Read More:
christmas cake pops
,
Christmas wedding favors
,
glitter cake pops
,
holiday ornament cake pops
,
holiday themed wedding cakes
,
holiday wedddings
,
winter cake pops
,
winter wedding favors