0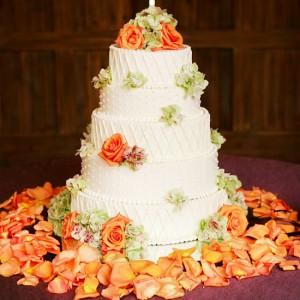 Fresh flowers are one of my favorite embellishments on a wedding cake.
I love the simplicity of using flowers or greens on a cake because there's no need to anything else to the cake. And, there are so many ways you (or your baker) can incorporate the flowers into the cake's design.
When I got married a long, long time ago the only thing I wanted on my eight-tier wedding cake was black magic roses. Those were the flowers I was carrying in my bouquet and they matched my color scheme. And I have to say, the flowers were stunning against the stark white frosting of the cake.
And the orange roses on today's cake are equally as stunning.
The cake is an elegant four-tier cake with beautiful buttercream frosting that features delicate pearl and lace designs. And the only "decoration" on the cake is fresh roses and small green succulents.
It is just so gorgeous. And the addition of fresh rose petals around the cake is pure genius.
No matter what your color scheme – or flowers – you could add the same simple yet beautiful design to your cake. Bright and cheery daisies would be perfect. So would dark red roses, or maybe even the fun-loving Gerbera daisies in different bright shades.
Fresh flowers are definitely one way to add a personal touch to your wedding cake.
I found this beauty here.
Read More:
cakes with fresh flowers
,
flowers on wedding cakes
,
fresh flowers
,
fresh flowers on wedding cakes
,
Roses
,
roses on wedding cakes
,
simple floral wedding cakes
,
traditional wedding cakes with flowers
,
wedding cakes with real flowers