0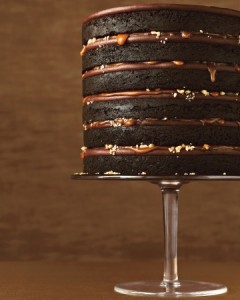 So here we are a few days post-Halloween.
Have you had your fill of chocolate and sweets yet? No? Good because today's wedding cake is ah-mazing!
Check out this ooey and gooey chocolate caramel wedding cake.
While I'm not normally a fan of "naked" wedding cakes this chocolate creation has delicious caramel, salted peanuts, and chocolate ganache between each layer.
There's no need for icing!
This cake is gorgeous and decadent and it's perfect for a fall wedding!
This cake was created by pastry chef Jason Schreiber. You can find it here.
Read More:
chocolate and caramel cakes
,
chocolate wedding cakes
,
fall wedding cakes
,
naked cakes