0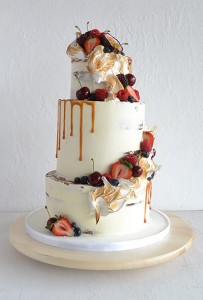 One of my absolute favorite flavors regardless of the season is caramel.
Whether we're talking about candy or coffee or just pure caramel sauce, I can't live without out.
So imagine my excitement when I found this rustic fall wedding cake with caramel sauce! Look at this cake – it is a work of art!
The three tiered cake is almost a naked wedding cake with just a slight layer of white icing. And then it features a drizzle of caramel sauce down the sides and a gorgeous assortment of berries and fall fruit.
And if that wasn't enough, the cake also features marshmallow fluff.
I'm not sure it gets any better than this!
This might be the perfect fall cake.
You'll find this cake here. It was created by Miss Ladybird Cakes.
Read More:
cakes with caramel
,
cakes with fall fruits
,
fall wedding cakes
,
fresh fruit on cakes
,
marshmallow cakes
,
Rustic Wedding Cakes
,
white wedding cakes