0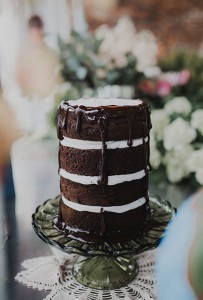 OK, I've been featuring a lot of naked wedding cakes lately – which is odd since I'm a frosting lover.
But today's cake is THE naked cake of the season so far.
First, it's chocolate! And second, there's a cascade of chocolate glaze on top of the cake that takes it to another level entirely.
Oh. My. Chocolate.
This four-tier cake is made with gorgeous layers of dark chocolate cake and striking white icing in between the layers. But that chocolate glaze on top? That's what makes this my new favorite non-iced cake.
It looks like a giant snack cake all dressed up for a wedding. And that's OK with me.
Your guests will love this confection too.
You'll find this chocolate cake here.
Read More:
chocolate cakes
,
chocolate drizzle
,
naked chocolate cakes
,
naked wedding cakes
,
summer weddings