0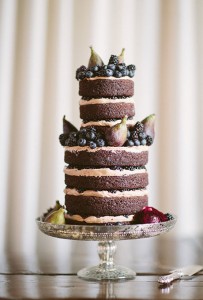 I have been craving chocolate lately.
I blame the displays of Halloween candy in the stores and the fact that I'm trying to avoid sweets.
So, to curb my cravings I've been looking at chocolate wedding cakes. And today's featured cake looks delicious!
This naked chocolate cake is the perfect "undressed" cake for a fall wedding thanks to the espresso frosting and the fresh berries and figs that adorn the cake.
There is no way your guests won't love this cake!
I am in love with the dark, dramatic hues of this cake created by the dark blueberries and deep purple blackberries. It really makes for an elegant cake.
You'll find this naked chocolate cake here. It was created by Lael Cakes.
Read More:
cakes with fresh fruit
,
chocolate wedding cakes
,
dramatic wedding cakes
,
fall cakes
,
naked cakes
,
naked chocolate cakes
,
naked wedding cakes