0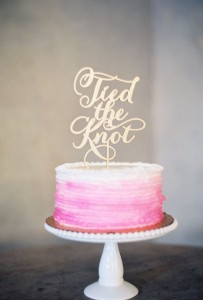 I really like the idea of having a separate centerpiece cake just for the bride and groom to cut and enjoy.
And then you can have other small cakes for the guests or a dessert bar. Something different and a bit out of the ordinary.
Today's cake would be ideal for that concept.
This single tier cake is perfect for the new couple – you could even have it at the "head" table and then set up other cakes and desserts elsewhere.
I love the look of this almost-ombre pink cake but if you aren't a fan of pink your baker could create it in a different color scheme.
You could even ditch the cake topper and turn it into a chocolate cake and it would be the perfect groom's cake!
But perhaps what I love even more than the cake is the fun cake topper.
If you're having a laid-back, relaxed wedding and reception this cake topper would be ideal.
You can find this whimsical cake here.
Read More:
fun wedding cake toppers
,
grooms cakes
,
Pink wedding cakes
,
simple wedding cakes
,
whimsical cakes
,
white and pink cakes