0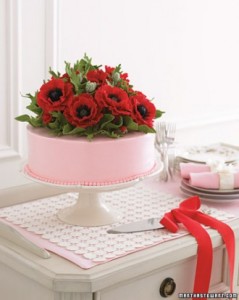 Since your wedding cake is the centerpiece at your reception, it makes sense to pick a cake that will make you and your guests smile.
This super cheerful – and very pink! – wedding cake fits the bill.
I am loving the simplicity of this cake. One tier, pink icing, and fresh poppies.
No muss. No fuss.
This cake would be perfect for a small, outdoor wedding in the spring or summer. It would even be lovely at your bridal shower.
And if you have plans for a bigger wedding, I am certain this cake would be stunning with a couple more tiers added to it. If you're loving the poppies ask your baker to add fresh flowers between each tier for added color.
You just can't go wrong with this pretty pink cake. And if poppies aren't your favorite flower, it would work with other blooms too – just be sure to pick something happy and cheerful!
We found this cheery wedding cake here.
Read More:
colorful wedding flowers
,
flowers on wedding cakes
,
fresh flowers on wedding cakes
,
outdoor weddings
,
Pink wedding cakes
,
poppies
,
poppies on wedding cakes
,
red flowers on wedding cakes
,
spring weddings
,
summer weddings
,
wedding cakes with fresh flowers