0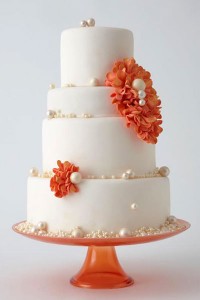 There's a fresh blanket of snow around here today, which has me daydreaming about spring and sunshine and flowers.
So of course that means that I had to find a cake that featured a bright, springy flower!
This elegant white cake with the peach flowers is the perfect antidote to a gloomy winter day.
The multi-tiered white cake features classic white icing that could have been boring but for the addition of the different sizes of pearls.
The pearls add just the right amount of elegance and glamour to the cake.
And the bright flowers are the perfect pop of color. Of course you could choose any color of blooms that fit your color scheme or theme.
You can find this cake here. It was created by Lulu Custom Cake Boutique.
Read More:
orange flowers
,
peach flowers
,
pearls on cakes
,
spring wedding cakes
,
wedding cake with flowers
,
wedding cake with pearls