orange flowers
0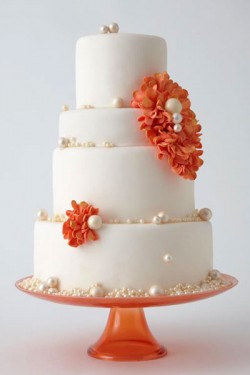 There's a fresh blanket of snow around here today, which has me daydreaming about spring and sunshine and flowers.
So of course that means that I had to find a cake that featured a bright, springy flower!
This elegant white cake with the peach flowers is the perfect antidote to a gloomy winter day.
The multi-tiered white cake features classic white icing that could have been boring but for the addition of the different sizes of pearls. Read More
0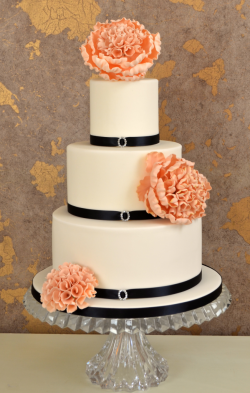 I have a confession to make. I don't like the color peach. Or the color orange. Or any color that might be close to peach or orange.
But, I love this wedding cake – peach flowers and all.
Look at this cake! It's so elegant and unique and gorgeous. And if I was getting married (again) I'd want this cake at my reception.
The three-tier cake would be gorgeous without the flowers too thanks to the smooth white icing and the black ribbons with diamond-like brooches. That combination is something I've never seen on a cake before and I love it. Read More