0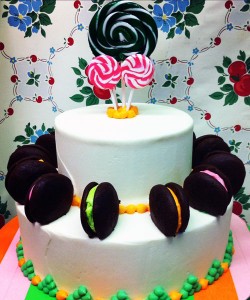 OK, here we are. In the middle of January. It's cold and snowy and we need something to cheer us up!
Well I'm happy to report that I found something – this wedding cake!
How can you not smile when you look at this fun and whimsical wedding cake? It is decorated with whoopie pies for crying out loud.
Whoopie pies. On a wedding cake. My day is complete.
This cake would be perfect for a reception with a festive, carnival theme or if you're just looking for something totally out of the ordinary.
The simple white cake is adorned with multi-colored whoopie pies (so much love) and swirled lollipops. It's the winner for most fun wedding cake ever.
You can find this cake here. It was created by The Little Daisy Bakeshop.
Read More:
fun wedding cakes
,
lollipops on cake
,
unique wedding cakes
,
whimsical wedding cakes
,
white wedding cakes
,
whoopie pies