0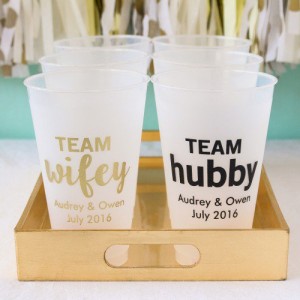 OK, you might be thinking "Really? Plastic cups?" But listen up!
Spring is just around the corner which means summer is coming soon too (wishful thinking, I know) and wouldn't these frosted plastic cups be absolutely perfect for your outdoor summer reception?
Your guests would loooove these cups (especially if you buy the "Team Wifey" and "Team Hubby" cups because those are just too much fun!)
The cups would be perfect for that casual outdoor barbecue reception you know you're just dying to host. Who wants a stuff indoor country club reception when you can have a par-TAY this summer?!? No one, that's who.
I am in love with these cups and they are my new favorite "I-wish-they-had-these-back-then" wedding favors. I would have totally bought them for my own country club wedding reception!
You'll find these super fun cups here. And there are several fun styles from which to choose!
Read More:
fun receptions
,
fun wedding favors
,
outdoor receptions
,
outdoor weddings
,
plastic cups
,
summer receptions
,
summer weddings