0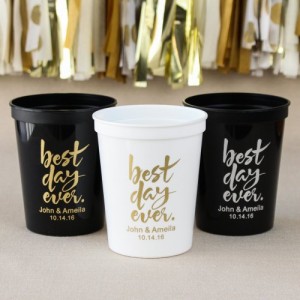 It's that time of year again – time for outdoor wedding receptions.
I love the idea of an outdoor reception.
They're much less formal than an indoor affair, even if you're partying under a big white tent with fancy tables and chairs. You're still OUTSIDE.
And if you're going to have fun outside you might as well drink out of fun cups, right? And if your guests can take those fun cups home with them, it makes it even better.
I love these personalized stadium cups. You can choose from more than 20 colors (!!) and there are so many different options for personalization.
I really like these "best day ever" cups but only because that's my favorite line from a certain animated Disney film (ah-hem, Tangled I'm looking at you).
These cups are also rather inexpensive so you can order extras so guests can take home a pair.
You'll find these cups here.
Read More:
cups
,
fun wedding favors
,
outdoor reception favors
,
plastic cups
,
wedding favors