summer receptions
0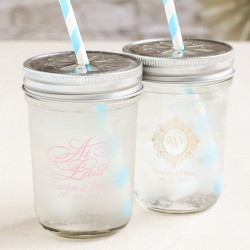 The sun is shining today so I'm thinking about summertime weddings.
Which of course means I'm thinking about fun outdoor locations and fun wedding beverages.
Ya know, the kind that could be served in these super cute glass mason jars (with lids!). Read More
0
OK, you might be thinking "Really? Plastic cups?" But listen up!
Spring is just around the corner which means summer is coming soon too (wishful thinking, I know) and wouldn't these frosted plastic cups be absolutely perfect for your outdoor summer reception?
Your guests would loooove these cups (especially if you buy the "Team Wifey" and "Team Hubby" cups because those are just too much fun!) Read More