outdoor receptions
0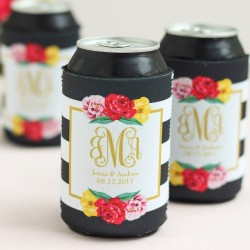 If there's one thing we have too many of in the kitchen it has to be can "koozies."
You know, those can "cooler" sleeves that keep your canned beverages cold while keeping your hands warm? Yep, koozies.
Now this might seem like a different kind of wedding favor, but that's what we love – different! Read More
0
OK, you might be thinking "Really? Plastic cups?" But listen up!
Spring is just around the corner which means summer is coming soon too (wishful thinking, I know) and wouldn't these frosted plastic cups be absolutely perfect for your outdoor summer reception?
Your guests would loooove these cups (especially if you buy the "Team Wifey" and "Team Hubby" cups because those are just too much fun!) Read More