0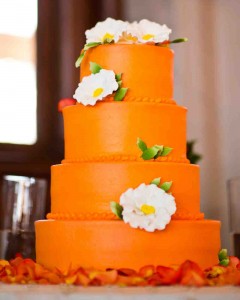 It might be the middle of winter but that won't matter when you check out this bright orange wedding cake!
This brightly hued cake will boost your spirits immediately and bring a smile to your guests' faces. And really, who expects to see an orange wedding cake at a reception? No one, that's who.
Even though orange is not my favorite color I do love this cake because it is unique and it is unexpected and it isn't boring!
This cake would be perfect at a spring or summer wedding if you're looking for something out-of-the-ordinary when it comes to wedding cakes.
And with a cake this bold and bright you don't need much in the way of embellishment – just a few fresh white blooms will do.
You can find this bright wedding cake here. It was created by The Mixing Bowl Bakery.
Read More:
bright colored wedding cakes
,
orange wedding cakes
,
spring wedding cakes
,
summer wedding cakes
,
unique wedding cakes