0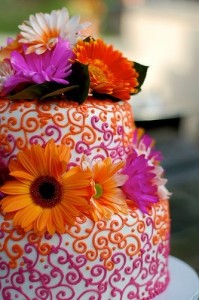 This wedding cake is like coffee!  Isn't it?
What do I mean?  It's an instant wake up!
I love it.  Really really REALLY.  Not only is it replete with the world's happiest flower, the DAISY, but the perfect scrollwork in two of the poppiest of colors, bright orange and magenta, make me want to dance.  Or twirl.  Or hula hoop.  Or maybe all of the above.  It's kinda like a really fun twist on the hot trend of ombre, don't you think?
I have no idea who made this cake, sadly, so if you do, please, speak up and let us know.  In the meantime, enjoy it.  Enjoy it like you enjoy a good summer party in your prettiest dress.
Read More:
colorful wedding cakes
,
daisy wedding cakes
,
magenta wedding cakes
,
orange and purple wedding cakes
,
orange wedding cakes
,
purple wedding cakes
,
scroll wedding cakes
,
seasonal wedding cakes
,
summer wedding cakes