orange wedding cakes
Do you have an affinity for bright, sunny colors? Are your friends always describing you as someone who likes things to be a little different? If warm hues and a non-traditional approach to wedding cake is what you're looking for, then an orange wedding cake may be just the confection for you. The term "orange cake" may refer to any number of different approaches. The cake may be considered "orange" because it is decorated with orange piping; it could be trimmed and topped with orange flowers; the entire cake could be enrobed in orange buttercream or fondant; or the cake tucked beneath the pretty exterior may even be orange-flavored.
Some of the most beautiful cakes utilize a light and deft touch when it comes to using color. Rather than covering an entire cake with a strong color, and thus potentially ending up with a pastry centerpiece that is more gauche than glamorous, your cake artist may steer you toward accenting with a shade of orange. For instance, he or she may suggest a pleasing dot design, utilized with a light touch. Or, for the bride who would like a little more color, a heavier hand with scrollwork might be a pleasing effect. Another option, one that has become very popular, is a Mehndi design, inspired by the henna tattoos that are traditional for brides in Indian culture.
Should you prefer not to have buttercream decorations in orange, but would still like to use the color in some way on your cake, you may consider garnishing or topping the cake with orange flowers. Many flowers are available in warm hues, ranging from pale yellow to deepest orange red. Some of the most popular orange flowers used to decorate cakes include roses, gerbera daisies, lilies, and orchids. Flowers can be fresh or made of gumpaste, and can transform an otherwise plain and traditional cake into a centerpiece that demands the attention of your guests. Orange also complements brown nicely, thus making orange flowers a natural choice for garnishing a chocolate groom's cake.
For the bride and groom who truly cannot get enough of this bold color, the entire cake can be enrobed in orange-tinted buttercream or fondant. Again, with such a bold color choice, it may be wise to mock up a sample of what the cake would look like. Consider asking your baker to prepare a six-inch replica of the final cake (for a fee, of course) to ensure that you are both happy with the result, and that your idea of the final color matches the idea of the baker.
Finally, an orange cake may not refer to the outside of the cake at all, but rather the inside. Recipes abound for orange cakes of all textures, from pound cakes and genoise, to chiffon and cheese. Orange filling is another terrific option for the couple who prefers this ubiquitous citrus fruit, and like the colors of orange and brown coordinate, so do the flavors of orange and chocolate. The foodie bride may also choose to lace her buttercream or mousse filling with a hint of Grand Marnier, the potent orange flavored brandy liqueur favored by pastry chefs.
In summary, if you like orange, by all means, celebrate this festive, happy color, and use it. With its natural ability to marry well with other strong colors, such as hot pink, purple, or even blue, the daring bride cannot go wrong when using this warm and happy hue.
0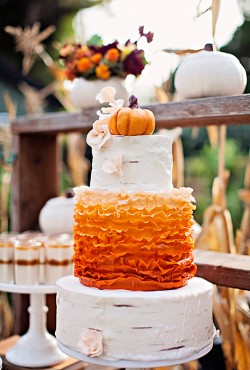 Of the best things about fall is the annual visit to the local pumpkin farm. We get to pick our own pumpkins out in the fields and then it's time to buy pumpkin doughnuts.
There's no denying that the pumpkins are the stars of the season.
And so, if you're planning a fall wedding it only makes sense to add some pumpkins to your decor or even to the dessert table. Read More
0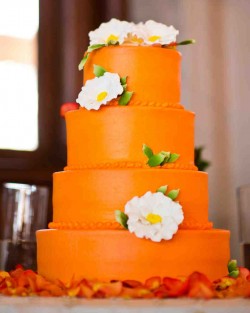 It might be the middle of winter but that won't matter when you check out this bright orange wedding cake!
This brightly hued cake will boost your spirits immediately and bring a smile to your guests' faces. And really, who expects to see an orange wedding cake at a reception? No one, that's who. Read More
0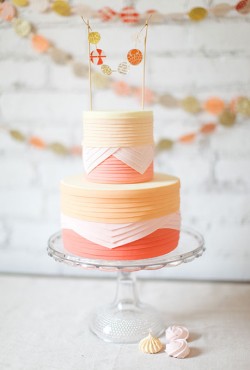 If there's a week when orange is the color to love, this week might be it.
With Halloween just a few days away the stores are awash in various shades of orange and while it might not be the first color you think of for a wedding cake it might be perfect!
There are so many shades of orange that could be used to accentuate the fall theme of your wedding, and today's cake does it in a subtle not-over-the-top way. Read More
0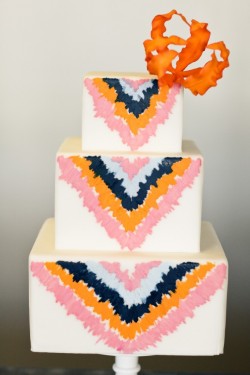 There is nothing simple or old fashioned about this modern and very colorful wedding cake.
And I think I kinda like that.
Sure, I'm normally a traditionalist when it comes to wedding cakes but there's something unique about this cake.
In order for this cake to "work" at your reception you'll need to have a modern color scheme and a modern vibe to the reception. Read More
0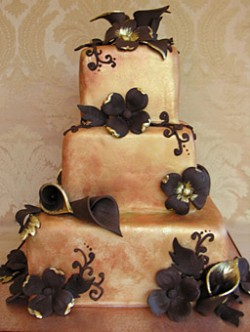 With Halloween only two days away I was searching for a wedding cake that would be the perfect centerpiece for an holiday wedding.
I think this orange and dark brown cake is the one.
After all, you can't go wrong with a cake that features the best Halloween colors, right?
I love that the orange glow of this cake is more of a golden orange hue, rather than a pumpkin orange. Read More
0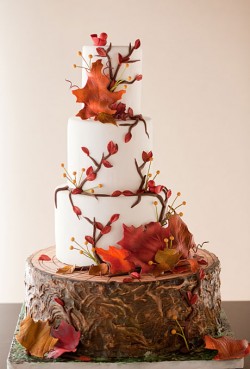 I think it's safe to say that fall is officially here.
There's a chill in the air, the leaves are changing color (at least around here), and I'm starting to see more fall decorations with a lot of orange and brown. So I figured it was a good time to feature a very fall wedding cake.
This is the perfect fall wedding cake – it has rustic colors, leaves, and even an edible tree stump as the cake's base.
The three-tier cake is iced with a beautiful white fondant that is embellished with gum paste leaves and branches in oranges, browns, reds, and greens. Read More
0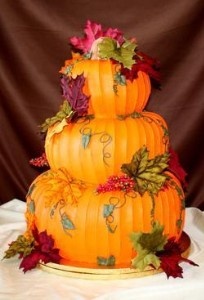 I'm a little late today, Guys and Girls. Front loading your week workwise and an 8+ hour roadtrip (with two little kids – :-O ) will tend to do that to you.
But I'm super happy to be settled into my temporary digs, and ready to share with you some Sweet and Pretty over the next few days, starting with this adorable cake.
Don't you just love fall and pumpkins?  And while we're all Read More
0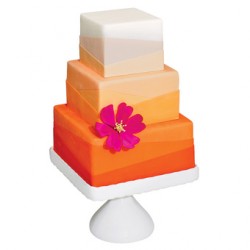 I'm feeling a little tropical-y today, girls.
Isn't this lovely?  It's like a sunset, you know?  The structured bands of orange range from palest to deepest with a lovely ombre effect, and the contrasting hot pink posy is, well, perfection.  It makes me Read More
0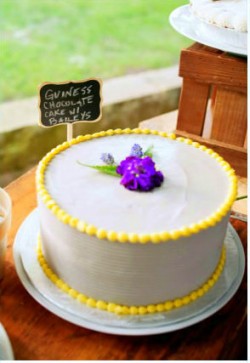 Happy Sunday!  I am soooo about to check out for a few days while my ab bestie is here visiting.  I can't wait!  It's been WAY too long.  But before I go get my beach on for the week (with a little Dark & Stormy action sprinkled in for giggles), I had to show you what I've been seeing this week.  Gosh, but it's been a pretty summer wedding-wise, with lots of homespun and lace.
But before we take our weekly peek at the interwebs, let's see what we've been up to right here at A Wedding Cake Blog.
On Monday, we featured the most DARLING Read More
0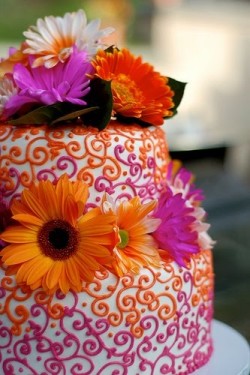 This wedding cake is like coffee!  Isn't it?
What do I mean?  It's an instant wake up!
I love it.  Really really REALLY.  Not only is it replete with the world's happiest flower, the DAISY, but the perfect scrollwork in two of the poppiest of colors, bright orange and magenta, make me want to dance.  Or twirl.  Or hula hoop.  Or maybe all of the above.  It's kinda like a really fun twist on the hot trend of ombre, don't you think?
I have no idea who made this cake, sadly, so if you do, please, speak up and let us know.  In the meantime, enjoy it.  Enjoy it like you enjoy a good summer party in your prettiest dress.