0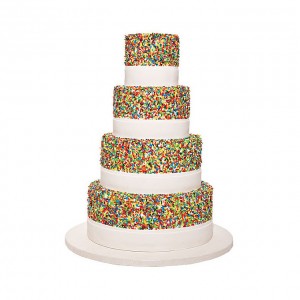 Happy February! We're thismuch closer to spring now!
And we're thinking warm and cheery thoughts today with this fun rainbow wedding cake.
Who needs a plain ol' white wedding cake when you can add sprinkles for some fun and whimsy?
I love the idea of using rainbow sprinkles to add a touch of color and fun to your wedding cake. It's a very clever way to add color without being too over-the-top.
Plus your guests will never expect a wedding cake topped with sprinkles!
No need for any other embellishment on this cake – the sprinkles do all the work. All you and your guests need to do is enjoy the cake.
A cute and modern cake topper would be perfect on this cake too.
You can find this cake here. It was created by Cheryl Kleinman Cakes.
Read More:
colorful wedding cakes
,
rainbow wedding cakes
,
sprinkles on cake