0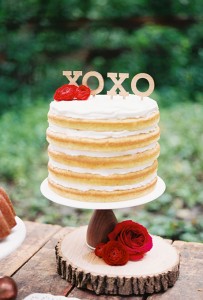 Naked wedding cakes are one of those wedding cake trends that I'm not sure I can fully support.
I mean, c'mon. These cakes are seriously lacking in one very important ingredient – FROSTING! But, as the saying goes, it's what in the inside that counts.
And if you're going to go with a naked wedding cake for your reception just make sure it has a lot of icing inside. Then I'll be OK with it.
Or, make sure it looks like today's featured cake – simple yet stunning.
This naked wedding cake isn't boring at all thanks in part to the lovely red roses and that fun wedding cake topper.
I'd give this cake some x's and o's for sure.
You can find this naked wedding cake here. It was created by The Faux Martha.
Read More:
fresh flowers on cakes
,
fun cake toppers
,
naked wedding cakes
,
roses on cakes
,
simple wedding cakes
,
summer wedding cakes