0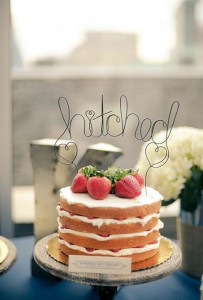 If there's one fruit that makes me think of all things summer it is the strawberry.
It could be the dead of winter (like right now) and if I buy strawberries at the store I feel a little more hopeful about warm weather that is coming down the pike.
Which brings me to today's wedding cake. This lovely, simple one-tier cake adorned with strawberries.
Given that it is a naked (sans frosting) cake, the addition of strawberries gives it that added pop of color that would otherwise be missing.
The vanilla cake with white icing would be rather boring without that peek of red from the strawberries between the layers. The circle of bright red berries on top of the cake is perfection too.
This cake would be lovely at a spring or summer wedding!
You'll find the cake here. It was created by Dulce Desserts.
Read More:
cakes with fresh berries
,
cakes with strawberries
,
naked wedding cakes
,
simple wedding cakes
,
spring wedding cakes
,
summer wedding cakes