0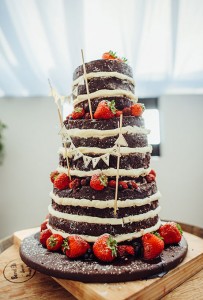 Right now it is full-on strawberry season here in the Midwest. It's actually a rather short season as "fruit seasons" go, but we take full advantage of it, enjoying all things strawberry for a few wonderful weeks.
And one of my favorite things has to be chocolate-covered strawberries. There's just something so decadent about that combination.
Which is probably why I'm loving today's cake.
Sure, it's a "naked" cake and we all know how I feel about cakes that lack in the frosting department. But look at those strawberries! On a chocolate cake! It's wedding cake bliss for sure.
I love the rustic vibe of this cake. It would be so perfect at a summer wedding! And the strawberries aren't the only fruit showcased – you'll also spy some raspberries and blueberries too.
It's truly the perfect summer wedding cake.
You'll find this cake here. It was created by Wanaka Cakes.
Read More:
cakes with fruit
,
modern wedding cakes
,
naked chocolate cakes
,
naked wedding cakes
,
Rustic Wedding Cakes
,
strawberries
,
unique wedding cakes
,
wedding cakes with strawberries