1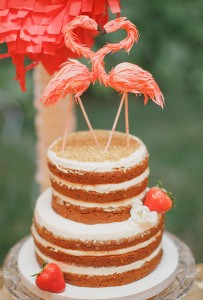 I made a trip to a local greenhouse over the weekend to purchase my summer flowers.
And while picking out my blooms, I spied the strawberry fields next door which got me thinking about that sweet summer fruit.
Around here, strawberries hit their peak in mid-June or so, which means I'll have a chance to enjoy some very, very soon!
But for now I'll have to be happy with today's wedding cake – which is adorned with bright red strawberries!
This cake practically screams "summer!" with its barely-there frosting, bright red strawberries, and adorable pink flamingo cake topper.
I love the whimsy of this cake – even if it is lacking in icing. Those flamingos are the BEST cake topper. Ever.
You need this cake at your summer wedding!
You can find this summery cake here.
Read More:
naked wedding cakes
,
Pink wedding cakes
,
strawberries on cakes
,
summer wedding cakes