0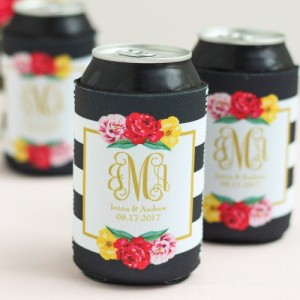 If there's one thing we have too many of in the kitchen it has to be can "koozies."
You know, those can "cooler" sleeves that keep your canned beverages cold while keeping your hands warm? Yep, koozies.
Now this might seem like a different kind of wedding favor, but that's what we love – different!
Imagine you're hosting an outdoor reception or maybe a destination wedding – or both. You could add these personalized "can coolers" to the welcome bag or you could put one at each place setting at the reception.
Of course, serving beverages in cans means they'll be used at the reception – a good idea for an outdoor party – but you could also just let your guests take them home as a fun keepsake!
You can choose from three different themes for these can coolers and they can be personalized to fit your theme.
You'll find these can coolers here.
Read More:
casual wedding favors
,
fun wedding favors
,
outdoor reception favors
,
outdoor receptions
,
personalized wedding favors