0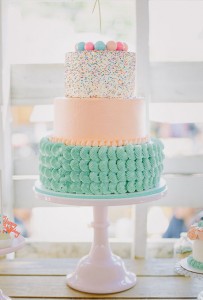 We're halfway through summer and I'm still loving wedding cakes with sprinkles!
I don't know what it is about these cakes – other than they are fun and whimsical and sometimes even elegant. And, they're totally not what you think of when you think "wedding cakes."
After all, sprinkles are the kind of thing you find on a child's birthday cupcake.
But I am loving this trend and I hope it sticks around.
Today's cake is so much fun – not only does it have sprinkles (!!) but it also features some really cool icing on the bottom tier (looks like ocean waves to me) and are those gumballs on top?
This cake is a really, really FUN wedding cake.
It's absolutely perfect for a spring or summer wedding!
You'll find this sprinkle wedding cake here. It was created by Cakewalk Bake Shop.
Read More:
fun wedding cakes
,
sprinkle wedding cakes
,
summer wedding cake
,
whimsical wedding cakes