0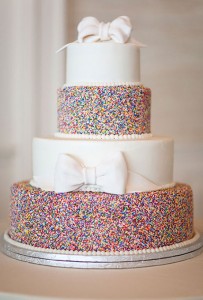 There's something about a wedding cake decorated with sprinkles that I'm loving this spring!
I don't know if it is the whimsical nature of the sprinkles or the fact that it's a fun way to add some rainbows to your big day but I really love this trend.
If you're going to use sprinkles on your wedding cake you can either go big – and decorate the entire cake with sprinkles – or go more subtle, like today's cake.
I love that just two tiers of this four-tier cake have sprinkles. It's just the right amount of color without going too crazy.
And the addition of the fondant bows on two of the tiers gives the cake the perfect elegant touch.
It's fun and elegant – which is a great combination!
You can find this cake here.
Read More:
cakes with bows
,
cakes with sprinkles
,
fun wedding cakes
,
rainbow wedding cakes
,
spring wedding cakes
,
sprinkles on wedding cakes