0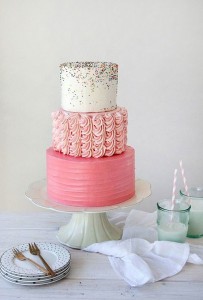 I love the idea of using sprinkles on a wedding cake, but not everyone is a fan of the tiny candies.
Which is why I love today's featured cake – it showcases one tier of sprinkles while keeping an elegant and fun vibe.
This three-tier cake might seem a bit "busy" at first glance, but it would be perfect for a spring or summer wedding.
Each tier features a different shade of pink – which is great for a seasonal cake. And the different styles of icing really make the cake pop visually.
And, at the top is the tier featuring just the perfect amount of rainbow sprinkles. No cake topper needed!
You can find this sweet confection here. This cake was created by Style Sweet CA.
Read More:
fun wedding cakes
,
Pink wedding cakes
,
spring wedding cakes
,
sprinkle wedding cakes