0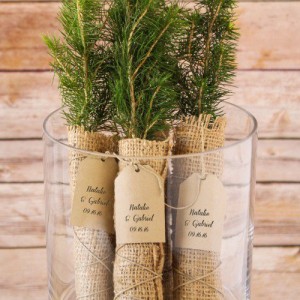 It's finally that time of year again – time to put up the Christmas trees!
I don't know about you but I'm a "fake" tree kind of girl – heck we even have a fake white tree with red and green lights.
But, I do love the smell of fresh evergreens which brings me to today's fun wedding favor – evergreen tree seedlings!
How much fun would these be at your winter wedding?
First, you're giving each guest a tree (saving the environment one wedding at a time) and they're a great seasonal gift!
These evergreen tree seedlings can be personalized (thanks to a fun hangtag). Each seedling is presented in a burlap wrap, which would be ideal for your winter or rustic wedding.
You'll find these personalized tree seedlings here.
Read More:
evergreen seedlings
,
fun wedding favors
,
holiday weddings
,
rustic weddings
,
tree favors
,
winter weddings