1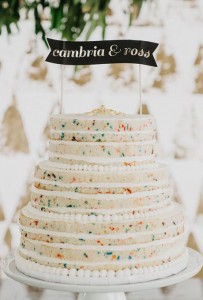 Wedding cakes with sprinkles seem to be all the rage lately and it's easy to see why.
These cakes are so fun and whimsical – perfect for the happiest day ever!
But what if your wedding cake didn't just have sprinkles on the outside? What if you also had them on the inside?
Now that's genius.
Actually, it's more like having a confetti cake as your wedding cake, but I'm all for having fun with the wedding cake. It doesn't have to be all formal and elegant. Fun works too.
I love the idea of a sprinkle-filled cake – and then making it a naked wedding cake so you can see all those colorful sprinkles.
Of course, being an icing girl I would like to see a bit more icing than what is on today's featured cake.
But it is still fun and pretty and perfect.
You can find this sprinkle wedding cake here. It was created by Mayflour Confections.
Read More:
colorful wedding cakes
,
confetti cakes
,
fun wedding cakes
,
sprinkle wedding cakes