0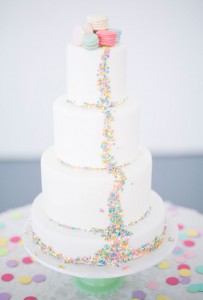 Happy spring!
The birds are chirping, the flowers are blooming, and this gorgeous cake is perfect for a spring wedding.
I'm a big fan of whimsical wedding cakes – you know, the cakes that don't take life too seriously. After all, your wedding should be full of fun and whimsy.
And nothing says fun like a cake covered in sprinkles!
This four-tier cake is decorated with sprinkles on each tier which makes it practically perfect in every way. But the addition of macrons on top take this cake to a whole new level!
You could even pick different colors of sprinkles for the cake depending on the time of year – red and green at the winter holidays, brown in the fall – the possibilities are endless.
You can find this springtime wedding cake here.
Read More:
fun wedding cakes
,
springtime wedding cakes
,
sprinkles on wedding cakes
,
wedding cakes with sprinkles
,
whimsical wedding cakes