0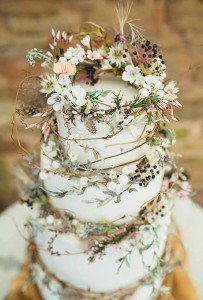 I've always loved the idea of a fairy tale, woodland-themed wedding.
And today's featured wedding cake would be ideal for just that type of reception. The cake is romantic and elegant and just what you'd want for a rustic wedding.
This rustic cake features three tiers of lovely white frosted cake surrounded by woodland vines straight out of a fairy tale.
The small white flowers and dark berries add to the overall rustic vibe of the cake.
The cake would be ideal for a late fall or early spring wedding. Add some holly to the vines and you have the perfect winter or Christmas time cake.
You can find this wedding cake here. It was created by Amy Swann Cakes.
Read More:
cakes with vines and berries
,
fall wedding cakes
,
holiday wedding cakes
,
rustic cakes
,
Rustic Wedding Cakes
,
white wedding cakes