0
Posted on January 16, 2017 by Traci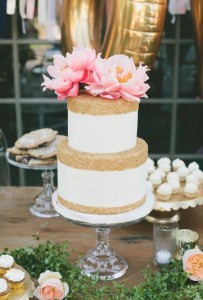 As we creep through winter gray hues of January it seems like the perfect time to think about a shiny, metallic wedding cake!
If you're looking to add some glitz and glamour to your big day, a metallic wedding cake might be the perfect way to do just that!
It doesn't have to be over-the-top or garish, but even a slight metallic accent takes a plain white cake to a whole new level.
Today's featured cake is a simple two-tier white cake embellished with gold sequins, giving it that perfect pop of color! A cake like that will brighten up the whole dessert table.
Add a bright, fresh bloom and the cake is perfect.
You can find this gold and white cake here. It was created by Sweet & Saucy Shop.
Other Posts You May Enjoy:
Read More:
golden wedding cakes
,
metallic wedding cakes
,
seasonal wedding cakes
,
sparkly wedding cakes
,
white and gold cakes
Recent Posts