0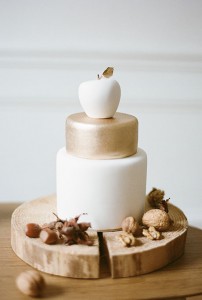 One of the best things about fall? Apples!
Picking apples, drinking apple cider, and of course wedding cakes with apples as the topper.
OK, so maybe that last one isn't so typical of fall but it should be.
Just look at this monochromatic white and gold cake – it is so perfect for fall. It is so elegant and yet simple at the same time.
With the larger tier iced with smooth white frosting and the smaller tier highlighted with gold, it's a standout cake that your guests will remember.
And the white apple is something you don't expect to see atop a wedding cake – which makes it perfect.
The presentation of the cake on the wood slab surround by acorns and walnuts makes this cake the ideal centerpiece at your intimate fall wedding.
You can find this cake here. It was created by Sugarplum Cake Shop.
Read More:
apples
,
fall wedding cakes
,
gold wedding cakes
,
simple wedding cakes
,
wedding cake with apples
,
white and gold wedding cakes