0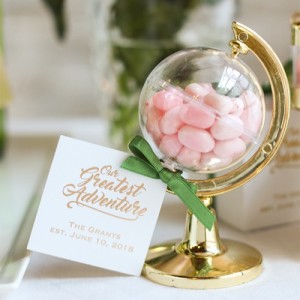 I've always loved globes – remember the globes that used to be in every classroom? You could spin it and see the whole world, imagining where you might travel.
Wait. Did I did totally go all "I remember when" on you? I feel SO old right now.
Anyway, globes are awesome. Especially if you love to travel (I do!). And these miniature globes for a wedding favor.
I'm also loving the whole "Our Great Adventure" theme.
You can fill the globes with your favorite small candy and add a fun, personalized tag too.
These would make a perfect favor at your destination wedding, or if you have a travel, adventure, or even vintage theme for your reception.
You'll find this super-fun mini globes here.
Read More:
fun wedding favors
,
globe wedding favors
,
travel themed favors