0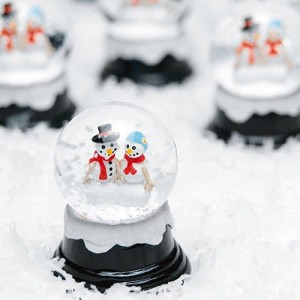 I absolutely love snow globes – they're fun and festive and they're full of fake snow. And we all know fake snow is way better than the real stuff!
And as much as I love "regular size" snow globes, I love mini snow globes even more because they're too cute to resist.
Which brings me to today's fun wedding favor. How adorable are these miniature snow globes?
I love that the snow couple inside is actually Mr. and Mrs. Snowman! They look so happy in their little frozen world.
These mini snow globes would be so perfect for your winter wedding. Your guests are going to love receiving such a whimsical favor.
Plus, these mini snow globes can be personalized with ribbon that matches your wedding colors.
You can find these adorable mini snow globes here!
Read More:
fun wedding favors
,
snow weddings
,
snowman snow globe
,
snowmen
,
wedding snow globes
,
winter wedding accessories
,
winter weddings
,
winter weding favors