0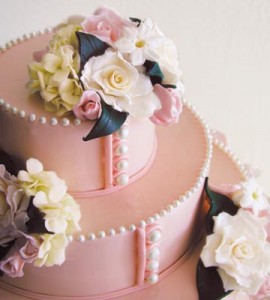 I love the idea of pink wedding cakes – especially in the springtime!
There are so many variations of the color pink – and so many ways to make the color pop on your cake.
And, pink is a great color for the warmer spring and early summer months.
Today's featured cake is adorned with lovely pearls, giving it an elegant look. The pearls pair nicely with the shimmery pink icing. (The shimmer affect was created by adding edible sparkle dust).
A nice pop of dark color is added with the chocolate nosegays – you just have to love edible blooms that look real!
This elegant pink cake is ideal for a spring wedding. You could add fresh blooms if you'd rather – I'd love to see this cake with some simple white roses to go with the pearls.
You'll find this cake here.
Read More:
chocolate flowers on cakes
,
pink cake with pearls
,
Pink wedding cake
,
shimmery pink cakes
,
spring wedding cake