0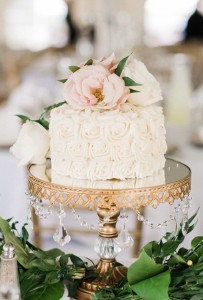 Roses are one of my favorite flowers and I love finding wedding cakes adorned with them!
Which means today's cake is one of my new favorites thanks to the addition of fresh roses AND icing that looks like roses!
This cake is small yet elegant and perfect if you're planning a dessert table for your reception (or if you're having a really small reception).
The one-tier cake features white icing that was piped to look like roses – giving the cake a super flower vibe. The elegant cake also features a few fresh roses on top, this time in light spring colors.
You could always add darker roses for a different season.
You can find this lovely spring cake here.
Read More:
cake with roses
,
elegant wedding cake
,
floral wedding cakes
,
one tier cakes
,
spring wedding cakes