0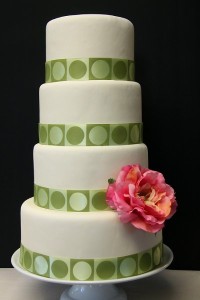 Green wedding cakes aren't something we normally feature around here, except maybe around the holidays.
But if you think about it – and look at today's featured cake – green cakes are quite amazing.
It's not a color you'd think about when considering a wedding cake, unless of course your favorite color is green.
However, it's a lovely shade when paired with a modern white cake.
Today's featured cake is four fondant-iced tiers embellished with the perfect modern touch – ribbon featuring a modern pop of greens.
The addition of the bright pink flower gives the perfect burst of fresh color. This cake would be perfect in spring or summer. Add a red flower instead of pink and you have an ideal holiday cake.
You'll find this cake here. It was created by Cosmic Confections.
Read More:
green and white wedding cakes
,
Green Wedding Cakes
,
modern wedding cakes
,
unique wedding cakes