0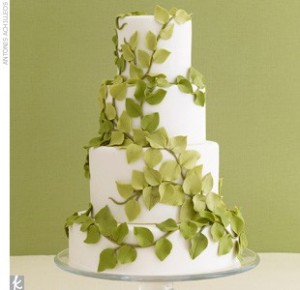 Disclaimer:  I am not Irish.  However, it's that time of year when green is everywhere, and it should be here, too.
So, if you aren't Irish either, then we'll take this opportunity to spring forward, and dream of the green things that are about to burst forth

This cake, which was featured on TheKnot.com, is lovely, isn't it?  A simple, flawless white background, with sugarpaste leaves and vines meandering over the four layers.  No embellishment, no topper needed.  This would be the perfect wedding cake for an outdoor woodland wedding, a bride and groom that favor different shades of green for their celebration, or as a visual statement of "green intention" for the environmentally-minded couple.
Read More:
green and white wedding cakes
,
Green Wedding Cakes
,
irish wedding cakes
,
seasonal wedding cakes
,
simple wedding cakes
,
spring wedding cakes
,
st patrick's day wedding cakes
,
white wedding cakes