0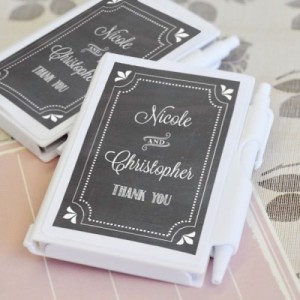 It's back-to-school time so my brain is filled with school supply lists and thoughts of the classroom.
Which might seem odd on a wedding cake blog, but I managed to find a fun wedding favor that reminds me what I love most about school shopping – the supplies!
Today's fun favor is a cute mini notebook and pen  that you can personalize to fit your wedding theme or colors!
I really love the chalkboard cover – it's vintage and fun. But there are many other fun covers from which to choose.
Your guests can grab a notebook on their way out after your big day or you can use them as place holders at the reception tables.
And if there will be a lot of kids at the wedding or reception these notebooks make fun gifts for them too!
You can find these notebooks here.
Read More:
fun wedding favors
,
notebooks
,
personalized favors