notebooks
0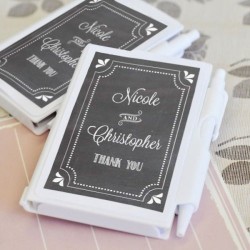 It's back-to-school time so my brain is filled with school supply lists and thoughts of the classroom.
Which might seem odd on a wedding cake blog, but I managed to find a fun wedding favor that reminds me what I love most about school shopping – the supplies!
Today's fun favor is a cute mini notebook and pen  that you can personalize to fit your wedding theme or colors! Read More
0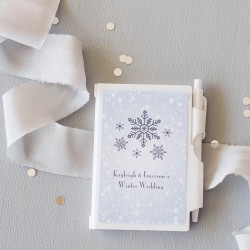 As we get closer to the holiday season – where making lists is essential – I found a great wedding favor that is super useful and fun!
Your guests will love these personalized notebooks, especially if they're tucked into a cute welcome bag for out-of-town guests.
These notebooks would also be a lot of fun for kids – if your reception is going to be kid-friendly. Each kid guest could get a notebook and some crayons and they'll be entertained for hours. Read More