0
Posted on February 5, 2016 by Traci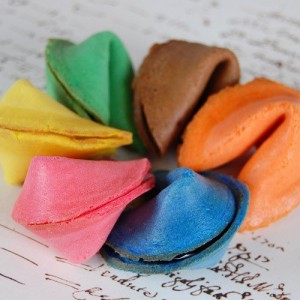 The best part of any Chinese takeout meal has to be the fortune cookie.
So imagine the fun your guests would have with custom fortune cookies at your wedding reception!
Not only can you choose the color of the fortune cookies but you also get to personalize the fortune inside.
The cookies are available in blue, brown, green, natural, orange, lavender, pink, red and yellow – so you can choose the colors the fit with your wedding colors.
Flavors available include blueberry, chocolate, coconut, lemon, lime, orange, raspberry, and original.
The cookies come individually wrapped which makes them perfect for placing in a bowl at each table or even adding to your dessert bar.
Your guests will love this fun wedding favor!
You can find these colored fortune cookies here.
Other Posts You May Enjoy:
Read More:
colored fortune cookies
,
edible wedding favors
,
fortune cookies
,
personalized favors
,
wedding cookies
Recent Posts