0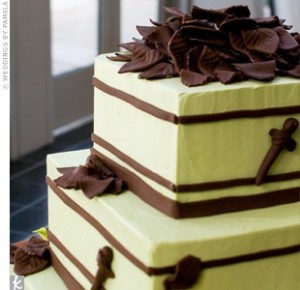 I picked this cake for one reason.
Thin. Mints.
That's what this cake reminds me of. The thin minty goodness that appears every March and then is unceremoniously ripped from the parking lots of grocery stores a few weeks later. I typically cry until June and then I forget about it again until February when my little friend comes around with her cookie selling sheet. Oh yes. I love Thin Mints.
I have no idea if this cake is actually mint flavored..but the light green and brown color combination remind me of them. Or perhaps it's the chocolate leaves as the topper that make me think mint. Either way it's a yummy looking cake!
Read More:
brown wedding cakes
,
chocolate leaves
,
chocolate wedding cake
,
fall wedding cakes
,
green and brown cake
,
green and brown wedding cakes
,
Green Wedding Cakes