0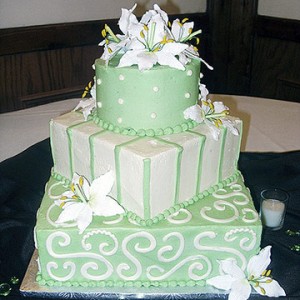 I might have mentioned recently that green isn't a color I often go to, except when it's the holiday season.
However, I am loving this mint green confection and would adore it at any time of the year, holiday season or not.
The color of this cake is so cool and really creates a beautiful cake when paired with the white embellishment and lillies as decoration.
Another thing I love about this cake is the playfulness embodied in the mixing of square and circular tiers. It makes it seems less formal, even though it would be perfect at a formal or casual wedding reception.
The green buttercream icing is decorated with elegant swirls and white pearls, while the white buttercream features striping. On their own any of these would be beautiful, but combined on one cake, the effect is stunning.
I found this lovely cake here. It was created by Delicately Delicious.
Read More:
green buttercream
,
green wedding cake
,
Green Wedding Cakes
,
lillies
,
pearls
,
square and round wedding cakes
,
square wedding cakes