0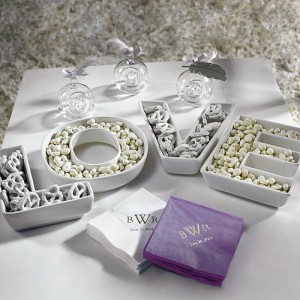 I love the idea of a candy bar at a wedding reception. And no, I'm not talking about little chocolate bars with your names on the labels.
I'm talking about a bar that serves candy where guests can fill little bags with lots of sweet treats.
It would be so fun to fill different size apothecary jars with assorted candies – Jordan almonds, mints, chocolates, and other goodies. But it would be even more fun if the table was decorated with these L-O-V-E plates.
I'm in love with the LOVE plates.
You could have so much fun with these plates at your candy bar – or even on the cake table if you choose to not have a candy bar. You could fill them with jelly beans or M&Ms in your wedding colors or you could skip the food items and fill them with glass marbles or maybe even sea shells for a beach wedding.
The possibilities – like your love – are endless.
You can find the ceramic LOVE dishes here.
Read More:
Cake Hope & Love
,
candy bar
,
creative wedding accessories
,
LOVE plates
,
wedding accessories