0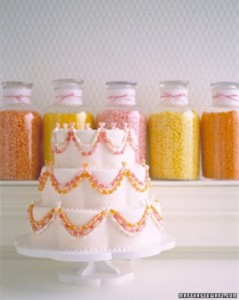 It's that time of year again – the store aisles are full of so many kinds of jelly beans, it's hard to choose a favorite!
Personally I'm a fan of the "traditional" jelly beans (minus the licorice flavored beans). But I never thought about embellishing a wedding cake with jelly beans. Until now.
How fun is this "jelly bean wedding cake"? I don't know about you, but I smiled as soon as I saw this cake.
It's just so cute and fun and whimsical – three things that mean you can't pass up this cake.
The jelly beans were actually arranged so that they looked like garland on the cake – and this is actually a DIY project if you're feeling overly ambitious when it comes to your wedding cake. The jelly beans are "glued" onto the cake with royal icing and the heart shapes on the tops of each tier are created by cutting jelly beans in half and pressing them together to form a heart.
This is a great wedding cake for your spring wedding, and if you aren't up for the DIY aspect of it, I'm willing to bet your baker could create it for you!
You can find this cake – and the directions on how to make it – here!
Read More:
candy trimmed wedding cakes
,
candy wedding cake
,
easter wedding cakes
,
fun wedding cakes
,
jelly bean garland
,
jelly bean wedding cake
,
Jelly beans
,
spring wedding cakes
,
whimsical cakes