0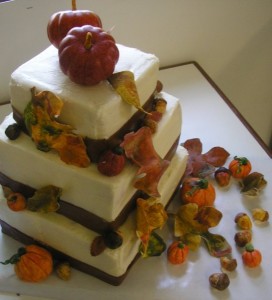 Let's face it. The holidays are over. The tree has come down, the lights have stopped twinkling, the stores are a little less silver and sparkly and that neighbor who won't take down his large inflatable Santa and Rudolf is starting to get on my nerves even though less than two weeks ago I stared out my window at the gorgeous decorations. What we are left with now is Winter. Dead, ugly winter.
What better way to cheer me up than a cake celebrating my favorite season..Fall! Oh fall..I love you. Football games, leaves, pumpkins, bonfires, Hot Apple Cider, Pumpkin Scented Candles and warm sweaters. This cake just epitomizes all the loveliness that is Fall! Or maybe I just love Fall wedding cakes because I got married in the fall. Either way, I love this three tiered square cake. I love the pumpkins and leaves scattered across the top of the cake. The green ribbon around the base of the teirs adds a nice little touch of fall color. This cake has certainly cheered up my Winter Blues and has me looking forward to next September..oh but it's so far!
This cake was made by Amy from Amy Bakes Everything. You visit her Etsy store here.
Read More:
amy bakes everyting
,
fall themed cakes
,
fall wedding cakes
,
pumpkin wedding cake toppers