0
I'm going to answer Brooke's question from yesterday.
I celebrate Thanksgiving and Christmas to the max. From the time November 1st until January 1st I embrace as much of the holidays as possible. I know sometimes Thanksgiving can get brushed over because of the hustle and bustle of Christmas. But not in my house. My mums are blooming and pumpkins and warty gourds are on my front door. I will celebrate Thanksgiving and fall until the day after Thanksgiving, and then Christmas from then on, and it will be twinkle lights and tinsel. However, you will probably catch me shopping for Christmas presents and listening to carols long before Thanksgiving. That's how I roll.
Last week I loved showcasing some of my favorite Halloween themed cakes from around the web…via Pinterest of course. In keeping with that theme today, I am going to highlight some of my favorite fall-themed cakes.
Fall-themed weddings are simply gorgeous. A friend of mine got married in an old red barn this weekend. It was just the right amount of windy so that the orange and red leaves made beautiful leaf rain. There was a bonfire at night and twinkle lights surrounding the dance floor. She wore a (faux) fur stole and looked simply amazing. To to honor her and all the other fall weddings let's talk about fall-themed cakes.
First up is our featured photo today. These adorable fall-themed mini cakes from Carrie's Wedding Cakes. I am seeing more and more mini cakes lately. A trend for 2012? Hmm?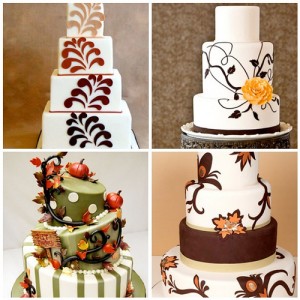 What about this quad (I mean that's the word you use for a group of four right? Trio or pair sounds so much better…but…we'll go with it) of cakes that was featured here and made by Instyle Weddings.  The topsy-turvy green cake has to be my favorite of this bunch.  What about you?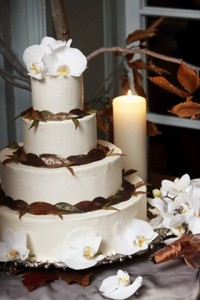 This cake that features leaves around the base of each tier makes me long for wrapping up in a warm throw, wearing sherpa boots in front of a big fire–how about you?  This cake was featured here on CakeChannel.com.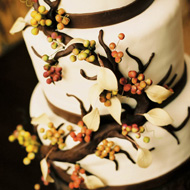 My personal favorite is this twig and berries-inspired fall cake featured on TheKnot.com.  I love everything about this one…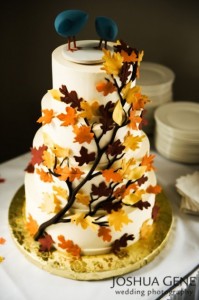 …although this cake comes in a close second with the fall tree theme and gorgeous blue bird egg topper.  (Photo courtesy of Joshua Gene Photography.)
So what do you think?  Do you love fall-themed cakes?  If you are planning a fall wedding, are you going to theme your cake or keep it traditional?   Let us know by leaving a comment below!
Read More:
fall themed cakes
,
fall themed mini cakes
,
fall tree themed cakes
,
halloween themed cakes
,
thanksgiving themed cakes
,
tree themed cakes
,
Wedding Mini Cakes