0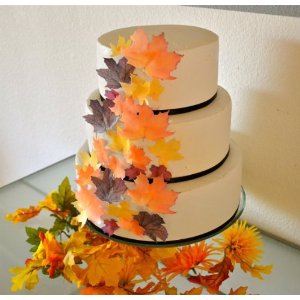 I'm deviating just a teensy bit today.  Rather than showing you something that goes on top of the cake, I'm showing you something that goes…on top…of…well, the cake.  Lemme explain.
I love fall.  And so do you.  I don't know ANYBODY who doesn't.  And I love it so much that I got married during fall.  And what's better than a fall wedding?  A fall-themed cake, of course!
There are lots of ways to accomplish a panoply of autumn color on your cake, but I can't think of a much easier way than just plopping a bunch of fall leaves on it!  If you are a DIY bride, you MUST be jumping up and down right now.  'Cause these leaves?  Totally edible.
So take your pretty, plain, off-white, three-tiered cake, and stick these on it.  Voila!  Instant autumness.  You're welcome.
Get these leaves here. And send us pics of the finished product!
Read More:
autumn wedding cakes
,
fall wedding cakes
,
leaf cake decorations. edible fall leaves
,
leaf cake toppers
,
seasonal wedding cakes